Process Safety Management
Unexpected releases of toxic, reactive, or flammable liquids and gases in processes involving highly hazardous chemicals have been reported for many years in various industries that use chemicals with such properties.
Regardless of the industry that uses these highly hazardous chemicals, there is a potential for an accidental release any time they are not properly controlled, creating the possibility of disaster.
To help ensure safe and healthful workplaces, OSHA has issued the Process Safety Management of Highly Hazardous Chemicals standard (29 CFR 1910.119), which contains requirements for the management of hazards associated with processes using highly hazardous chemicals.
Process safety management (PSM) is addressed in specific standards for the general and construction industries. OSHA's standard emphasizes the management of hazards associated with highly hazardous chemicals and establishes a comprehensive management program that integrates technologies, procedures, and management practices.
For more information, consult the Safety and Health Topics | Process Safety Management.
Inherently Safer Chemical Processes
"The Easier a task is to do physically, the less likely it is that it will be skipped or done incorrectly" - The American Institute of Chemical Engineers, Center for Chemical Process Safety "Inherently safer chemical processes: a life cycle approach", p 195.
Does your organization have a holistic approach to making the development, manufacture, and use of chemicals safer?
"Inherent Safety is a modern term for an age-old concept: to eliminate hazards rather than accept and manage them. This concept goes back to prehistoric times. For example, building villages near a river on high ground, rather than managing flood risk with dikes and walls, is an inherently safer design concept."1
Similarly, using equipment that entirely eliminates exposure to toxic and hazardous chemicals, rather than having complex processes involving predetermined step-by-step procedures, the use of heavy gear and decontamination, is moving towards an inherently safer design concept.
Since the early 1980's, engineers at BIAR have been developing solutions to improve security at sampling stations. Reducing complexity has proven to increase efficiency and what used to be a daunting burden without our sample valve is now a safer and more enjoyable task to perform.
Furthermore, using safe and simple equipment, such as BIAR Sample Valves, for your manual sampling requirement, not only provide a secure and enjoyable environment for the operator, but it will also help comply with regulations as "inherent safety has been proposed as a leading requirement for the chemical security regulations in the U.S. Congress".2
Applying inherent safety principles can reduce risks associated with sampling and this is why BIAR recommends the following publication by the American Institute of Chemical Engineers, Center for Chemical Process Safety: Inherently Safer Chemical Processes: A Life Cycle Approach, 2nd Edition
1 The American Institute of Chemical Engineers, Center for Chemical Process Safety "Inherently safer chemical processes: a life cycle approach", p 5.
2 The American Institute of Chemical Engineers, Center for Chemical Process Safety "Inherently safer chemical processes: a life cycle approach", p 8.
Liquid and Gas Sampling
The issues you are currently facing with your sampling valves for liquids, slurries and gases can be resolved using a PRISEMASSON® valve made by BIAR: Superior design As the manufacturer of the safest and most technologically advanced sampling systems, our engineers have developed a simple modular concept that will guarantee the integrity and representativeness of the sample and at the same time increase safety and efficiency. Experience Since the early 1980's, we have built a strong expertise in the field by addressing the toughest challenges and solving complex problems such as the prevention of waste, soiled surfaces, toxic fumes as well as avoiding contamination of the process and deterioration of the environment. Applications range from polluted water to highly toxic gases, including HF, Phosgene and Chlorine. Contact us today to find out how our systems and experience will help you solve sampling problems in a simple, safe and efficient way!
The Nitrogen Rinsing: How It Works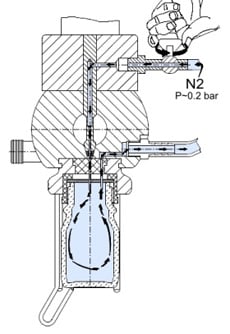 The research and development of BIAR SAMPLING SYSTEMS go from the most complex system to adaptations of the standard range. Its goal is to always obtain a representative sample with the highest quality.
BIAR SAMPLING SYSTEMS has found solutions in many applications since its foundation in 1985. Rinse a sampling valve with nitrogen Among its standard line of products, the company also proposes alternate solutions in order to offer to its customers the best response to their needs.
To take a sample in a close system with a septum bottle, BIAR proposes many systems with needles: the needle support "click", the protection box, the safety cabinet.
In order to inertize the bottle before the sampling operation, BIAR SAMPLING SYSTEMS found a way to rinse the bottle with nitrogen through the spindle. Because of its electronegativity, oxygen easily establishes chemical bonds with other elements, which can deteriorate the quality of a sample. The nitrogen injected by the G1/4 connection of the valve, goes through the spindle and gradually removes the oxygen in the bottle. This operation thus creates an inert atmosphere which protects some products from oxidation and makes it possible to obtain a higher quality sample.
---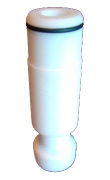 Since July 2006, BIAR also offers on the market a rinsing accessory for needles which works with all applications equipped with a cleaning connection through the spindle. To guarantee each time a 100 % representative sample, BIAR proposes a PTFE accessory which is connected around the needles; sealed off with an O-ring joint. The cleaning product injected through the spindle goes down in a rinsing room (approx. 1.3 cm3) before arising by the vent's hole.