Company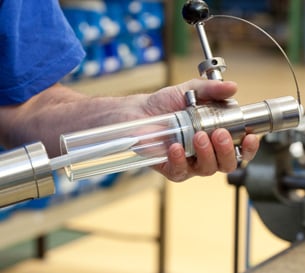 Expert in Sampling Systems
BIAR specializes in designing and manufacturing liquid and gas sampling systems for pipeline or reactor.
Pioneer
BIAR took the lead when, as early as 1983, it developed the first sampling valve with a hand wheel and conical seat.
Swiss Quality
Proud of its Swiss roots, BIAR's manufacturing style emphasizes quality, durability and high precision.
Certificates
ISO 9001:2008ISO 3834-2:2005CEFIRE SAFE ATETA-Luft

Download the certificates. [Size 4,165 KB]
---
Historic – An Ideal Partner Since 1983
Guy Masson is the inventor of BIAR's sampling system, also known as "PRISEMASSON®". He is the founder of BIAR S.A. in Switzerland and BIAR, Inc. in the USA.
Today
The customer should be our very first concern while we offer solutions that are simple, sure and efficient.
2008
Opening of the new 4000 m2 production center and office in Sembrancher.
1992
Opening of a branch in the United States, near Baton Rouge, Louisiana.
1988
Building of the engineering office and the workshop.
1985
Creation of the corporation BIAR in Switzerland (BIAR SA). The name comes from the initials of this French phrase: "Bureau d'Ingénierie et Atelier de Réalisation" which means "Engineering Office and Realization Workshop".
1983
The device encounters a certain success and the request for a patent has been made.
1980
While working for a large Swiss chemical group, Guy Masson has developed a prototype used to handle toxic products.
---
Our Know-How at Your Service
Consultation and Follow-up
Consultation and follow-up to guarantee the quality of service, BIAR has a unique point of sale and production, allowing timely interactions and improving communication between technical consultants and different services from production to invoicing.
Availability
A personal technical consultant that will follow up from the inquiry to the delivery.
An American subsidiary
A local agent
---
Expertise & Develpoment
BIAR is the leader in engineering sampling solutions with its own design center. Experts at BIAR create specific solutions for customer's individual projects.
Production Center
All products are Swiss made in our 4000m2 production facility.
A modern infrastructure and highly qualified staff allow BIAR to focus its expertise on what it knows best.
---
Careers at BIAR
There is no current vacancies but don't hesitate to send us your spontaneous application.